Make sure your brand gets the attention it deserves.
Setting up a display in an outdoor location? Flags are an ideal way to stand out and make sure your business gets noticed. Wimbledon Business Studio creates flags in a wide variety of shapes, sizes and designs to ensure maximum impact. Made of lightweight, durable materials, our flags are vibrant and eye-catching, even from a distance.
Whether on soft or hard ground we have a suitable base, and a wall mounting option too. Perfect for shops, café's and any outdoor event. Just let us know where you will be using your flag and we'll advise on the best solution.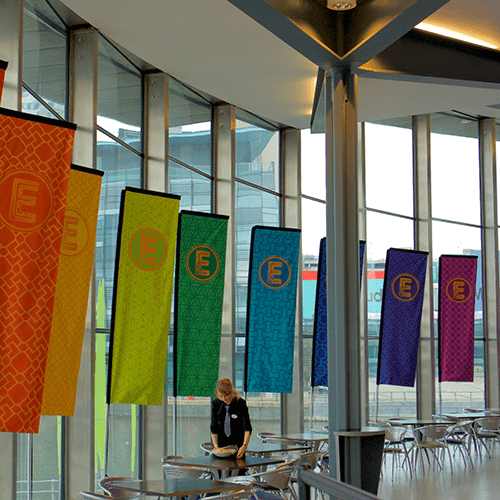 NEED HELP WITH YOUR DESIGN?
Our in-house graphic design team is here to help with all your graphic design needs, be it page layout for a catalogue or an eye catching one-off design for a leaflet, poster or banner. Graphic design briefing is one of those things best done face to face so why not book a meeting with one of our design team, we'll get an understanding of your requirements and provide you with an estimate.
Creating your own design? Is your artwork print ready? Have you got bleed? Is it CMYK? Confused? Download our handy artwork guide to help you out.