An effective and low-cost gift.
In today's digital age, there is still nothing quite like reading a hefty paperback. Bookmarks targeted at those who enjoy this simple pleasure are a great little gift; brand them up and you'll be in your clients mind's eye at the turn of every page. Ideal for adding into a goodie bag or as an event keepsake, bookmarks are an interesting and unusual giveaway.
Wimbledon Business Studio have printed bookmarks for over 20 years and offer great value and high quality options.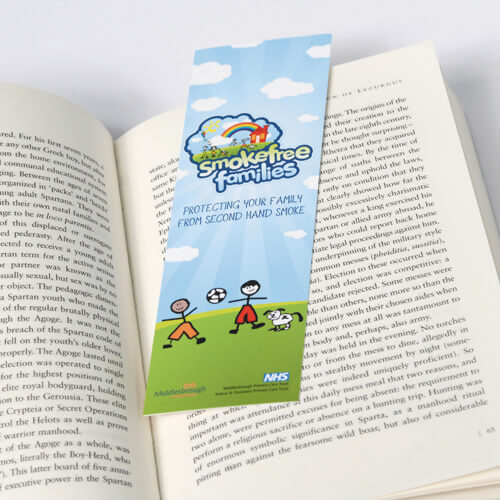 NEED HELP WITH YOUR DESIGN?
Our in-house graphic design team is here to help with all your graphic design needs, be it page layout for a catalogue or an eye catching one-off design for a leaflet, poster or banner. Graphic design briefing is one of those things best done face to face so why not book a meeting with one of our design team, we'll get an understanding of your requirements and provide you with an estimate.
Creating your own design? Is your artwork print ready? Have you got bleed? Is it CMYK? Confused? Download our handy artwork guide to help you out.