Turn potential clients into satisfied customers.
Professional, full colour flyers are one of the most classic and time-tested ways to generate new customers. Thicker than leaflets, flyers are great for promoting events, sales and product launches. Hand them out or put them through doors, there isn't a much better value way to generate new business. Wimbledon Business Studio specialises in designing and printing flyers for businesses all over the UK, available in a variety of sizes, shapes and paper stocks. From pocket size to a multi-page folded flyer, we have the experience and expertise to craft effective, durable flyers that give you a huge ROI and convert customers.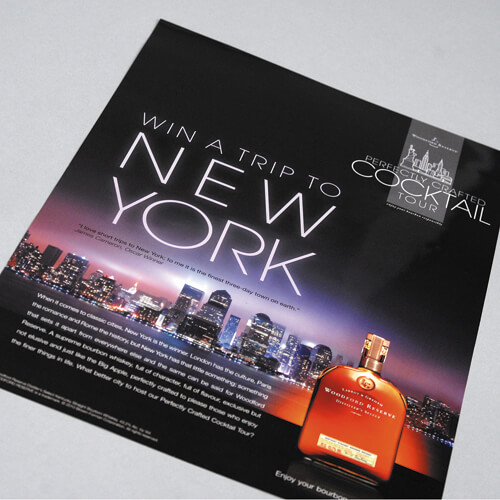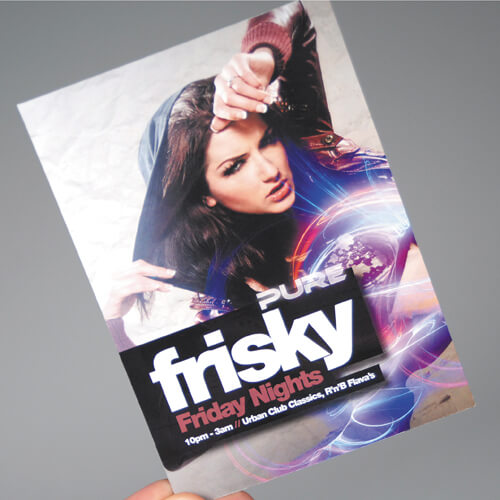 Silk Flyers
Want to add a different dimension to your flyers? Try printing them on thick card and add some weight to your message. Our thick flyers are also perfect for invitations, menus and price lists.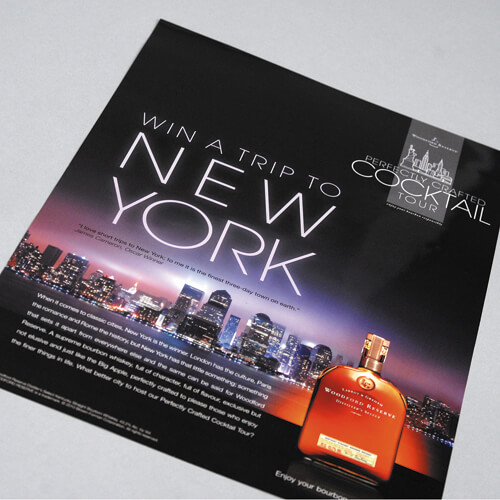 Gloss Flyers
If you're looking to print your flyers on something a bit thicker than paper, these flyers will fit the bill! The gloss coating will give your print a subtle sheen.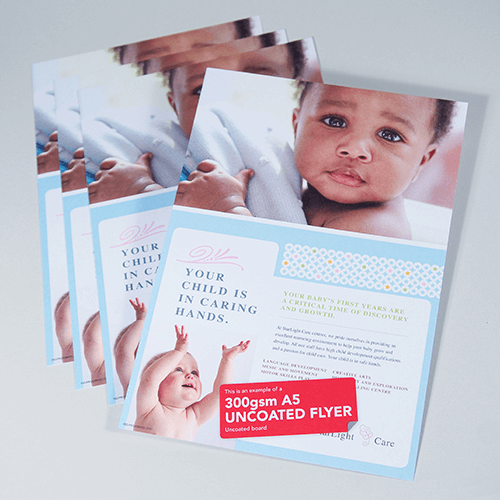 Uncoated Flyers
Our uncoated thick flyers have an understated, chic feel. They can also easily be stamped or written on. These thick flyers are great for beautiful brochures, handsome hand-outs and magnificent menus.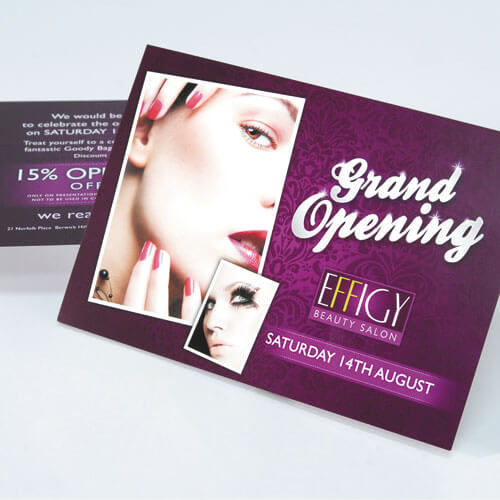 Matt Laminated Flyers
Our matt laminated flyers and super thick, and coated with a classy matt lamination. Also ideal for printing menus and price lists.
These thick flyers are great for beautiful brochures,
handsome hand-outs and magnificent menus.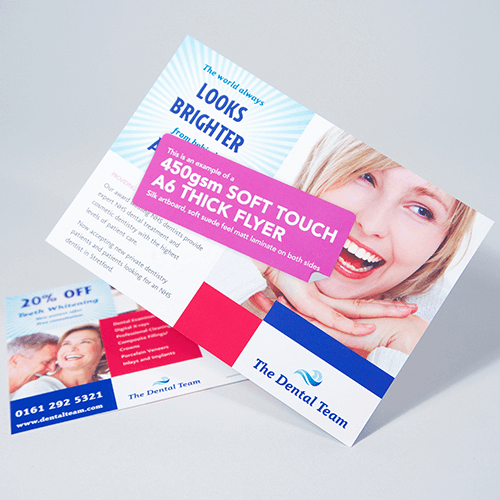 Soft Touch Matt Laminated Flyers
The next level in matt lamination. We start with a thick 450gsm card and apply a super smooth, soft touch lamination. The result is a suede feel card your customers won't be able to resist.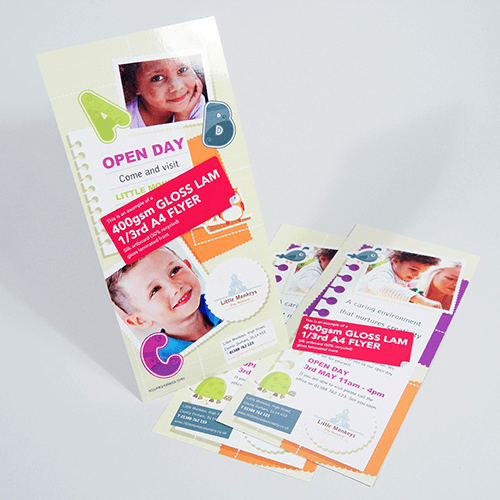 Gloss Laminated Flyers
These gloss laminated thick flyers are printed on 400gsm card with a gloss lamination applied to the front, they make ideal menus and price lists, handsome hand-outs and magnificent menus.
Shaped Flyers
Our shaped or folded thick flyers will give your marketing an understated, chic feel. They can be shaped, perforated or creased and make perfect cut-out flyers, menus, price lists or mini brochures.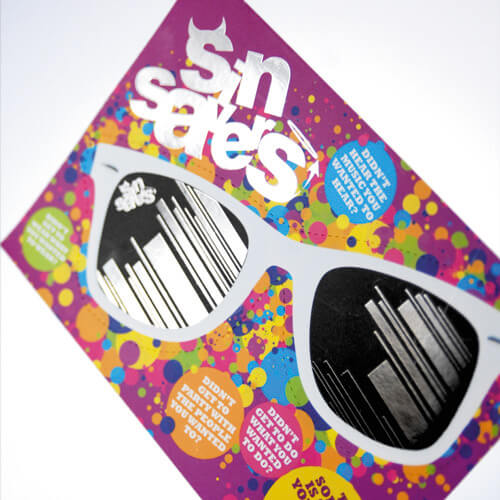 Foil Flyers
For something extra special, these super thick XO Showcards with gold or silver foil are just what you need to impress.The card feels luxurious and is ideal for writing on, while the foil gives that extra eye catching touch.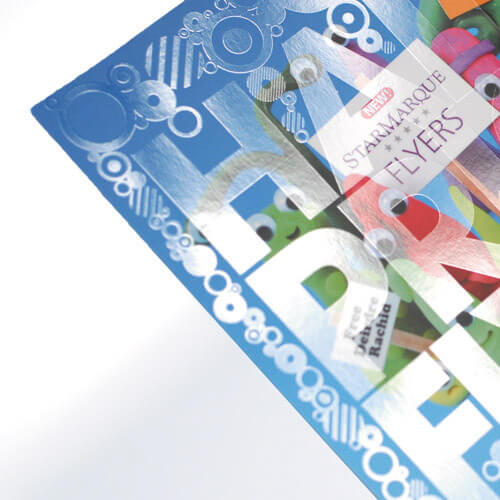 Spot UV Flyers
Spot Gloss flyers are matt laminated both sides and then gloss varnished highlights are applied to the front or booths sides. These flyers are great for handsome hand-outs and magnificent menus.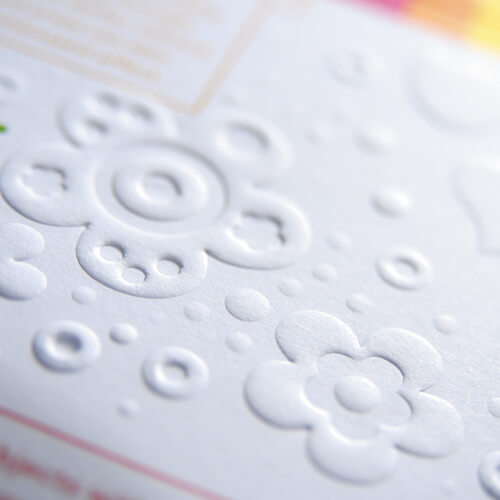 Embossed Flyers
Embossed Flyers are super smooth cards with stylish embossing. The raised detail adds an elegant and impressive feature to your invitations, menus or thick flyers.
NEED HELP WITH YOUR DESIGN?
Our in-house graphic design team is here to help with all your graphic design needs, be it page layout for a catalogue or an eye catching one-off design for a leaflet, poster or banner. Graphic design briefing is one of those things best done face to face so why not book a meeting with one of our design team, we'll get an understanding of your requirements and provide you with an estimate.
Creating your own design? Is your artwork print ready? Have you got bleed? Is it CMYK? Confused? Download our handy artwork guide to help you out.