Keep your paper details clean and organised.
Wimbledon Business Studio offers custom printed NCR Pads and Invoice Pads that duplicate handwriting onto multiple layers of a pad of paper. NCR, or "No Carbon Required," pads and forms are ideal for any business that issues handwritten invoices, receipts, client notes, or order details. They ensure that everyone receives the same information, so that no confusion arises at a later date.
We offer two or three parted sets available in A6, A5 and A4 sizes, completely customised to include whatever information you require.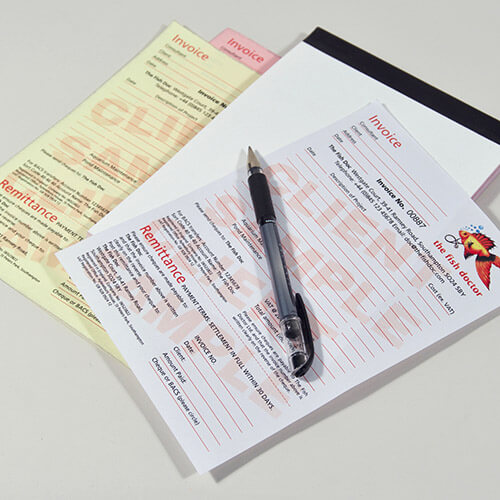 NEED HELP WITH YOUR DESIGN?
Our in-house graphic design team is here to help with all your graphic design needs, be it page layout for a catalogue or an eye catching one-off design for a leaflet, poster or banner. Graphic design briefing is one of those things best done face to face so why not book a meeting with one of our design team, we'll get an understanding of your requirements and provide you with an estimate.
Creating your own design? Is your artwork print ready? Have you got bleed? Is it CMYK? Confused? Download our handy artwork guide to help you out.